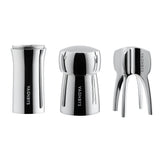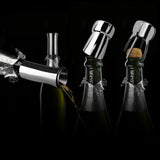 This complete champagne lovers set includes all three of our award-winning champagne tools.
The Vagnbys® Champagne Pourer ensures controlled pouring, minimal loss of precious champagne bubbles and a perfect no-drip edge.
The Vagnbys® Champagne Stopper eliminates waste by preserving the flavor and finish of previously opened bottles of champagne. The stopper features an airlock seal that yields a satisfying 'pop' each time the bottle is reopened.
The Vagnbys® Champagne Twister carefully uncorks any bottle of champagne or sparkling wine by gently loosening pressure with a simple twist. The elegant design is forged from a single piece of polished stainless steel.
SPECIFICATIONS:
Made of stainless steel, TPR, PP and silicone.
Easy to clean under the tap.

Danish design by mencke&vagnby