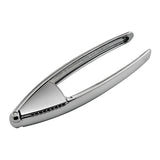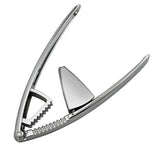 The Vagnbys® Garlic-X-Press offers professional grade design for master chefs and home use. Our unique, patented design is incredibly simple to use and easy to clean by utilizing side notches for expressing the garlic which won't clog. Simply rinse under the tap and wipe clean, no dishwasher needed.
Features:
Unique, patented design
Maximum flavor release
Simple, press and clean action
Specifications:
Made of chrome plated zink-alloy
Easy to clean under the tap.
Danish design by Karina Mencke and Marcus Vagnby, mencke&vagnby.