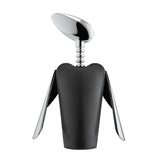 Vagnbys® 'Wings' Corkscrew
The Vagnbys® 'Wings' Corkscrew is inspired by the graceful, yet powerful design of a bird's wings. With limited effort, the powerful gears nested inside the Wings Corkscrew easily lift corks from your favorite wine bottle. 
Specifications
Made of ABS and zinc alloy with chrome plating. 
Danish Design by Karina Mencke and Marcus Vagnby, mencke&vagnby.